Silicone food storage bags vs single use plastic bags
Reusebale sealable zipper bags were created to challenge the outdated single use ziplock bag. I've been using multi use containers since having my kids, and they have come a far way!  If you haven't moved away from single use plastic bags now is the time to start, I loved them so much I wrote this Zip Top review. I even have an amazing discount code for 15% off. Use the code WFAS15 during the check out process.
Zip Top containers are unique as they stand up, sit open, and zip shut! This bag was a game-changer in my cupboard organization and refrigerator. An added bonus is they can be washed in the dishwasher, frozen, and microwaved.
I encourage you to join the anti-plastic campaign. It really is as easy as starting with one product that is easy to use over and over again.
Zip Top containers
Zip Top containers are a genius invention combining disposable plastic bags and tupperware containers . With a flat base to stand up when full or empty and a pinch-lock closure to hold foods fresh they are long lasting. The containers can safely store hot liquids, such as soups or stocks, and they can also be used in the refrigerator and freezer. You can also put them in the dishwasher for hassle-free cleanup.
Zip Top containers are available in three different shapes and sizes—cups, dishes, and bags—and are ideal for anything from meal storage to leftovers to on-the-go snacking.  If you have little ones, this is my favorite product for on the go snacking. The containers are made of silicone and are free of BPA, lead, PVC, and phthalates.   By replacing single use bags with a reusable container you could replace up to 5,000 disposable bags.
Is it safe to use zip-top silicone food storage bags?
YES! Food storage bags and containers made of silicone are entirely safe for use.
Compared to  single use plastic bags, Zip Top containers can handle high temperatures to freezing temperatures.
When it comes to cooking, the Zip-Top product line is food-grade approved, so you don't have to think about those nasty contaminants seeping into your food. The most amazing thing about Zip Top containers is they can be used over and over without any changes their quality.
Is it possible to put Zip Top food storage bags in the dishwasher?
YES! Zip Top containers can be tossed in the dishwasher (my favorite part of my Zip Top review!)
Their food storage is built with rounded edges to help avoid food buildup, according to their website.
Zip Top Containers Review
Zip Top containers are designed to be reused! I just purchased my second box of Zip Top containers as they are they only thing I use any more. I've added them to my Christmas list for my sisters, mom, mother in law, and friends!
After trying several other brans, Zip Top containers are the best brand out there. I love the flat surface, how easy they are to clean, and how great they store.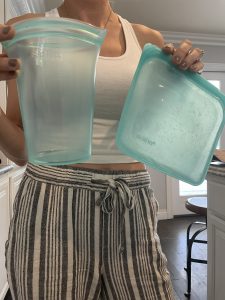 Is it worthwhile to invest in a Zip Top?
Zip Top receives two thumbs up from us on my Zip Top review. For a company that cares about the environment, their products are designed to be an eco-friendly alternative to conventional disposables.
Their containers are not only recyclable, biodegradable, and environmentally friendly, but if you use them as much as I do the price shouldn't scare you away.
Purchase here! You can even use my discount code WFAS15 for 15% off any product!
FAQ's
Is the Zip Top freezer safe?
Yes! Zip Top containers can used in the freezer.
Is the Zip Top bag airtight?
Zip Top containers seal differently than standard plastic zippered baggies, which have tiny, rigid, smooth plastic zippers. Zip Top containers have flexing zippers that are wide, soft, and rounded. As a result, when the containers are pressed, they can sometimes leak a little air. Furthermore, once secured, air will sometimes try to seep back in due to the broad, rounded opening draw. If this is the case, the tiny volume of air in your Zip Top will behave similarly to air contained in an everyday lidded bag.