I tend to pack on a few pounds extra while on vacation. I never mind it as I'm enjoying life, but there are a few ways to avoid a seven to ten pound plus weight gain during your week vacation.
I like to focus on making sure I have a decent breakfast. If you enjoy seven straight days  of donuts, pancakes, quiche and croissants it's just excessive. I bring protein powder with me. I try to have a shake and a piece of fruit for a meal once a day.  Traveler tip, lots of gyms at hotels will have apples, oranges or bananas for free. This easy change will help your waistline and your bill when you check out.
Find the gym and go spend 20 minutes of HIIT training there. Forget the cardio machines, download a few circuit apps and use those daily. If you are feeling really creative create your own on Pro Timer. You don't need much time, just the right intensity. A few of my favorite moves to add to circuits are pushups and squats on a boso. Lots of gyms have TRX Straps or ropes which is a great burst. Here is an example of one of my favorite circuits to do while on vacation
Circuit for Vacation
50 seconds high intensity
10 seconds rest
Two rounds
Squat hold
Plank with shoulder taps
Tricep dips as slow as you can go
Deadlift with the heaviest weight you can do as slow as you can go
Bicep curls
Calf raises with heavy weight
Walking lunges with heavy weight
Tricep push-ups
Rows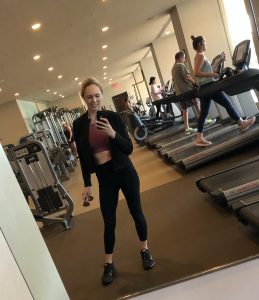 Another great way to stay active is walk, take any chance to get a few more steps in. I try to start my flights off by taking the stairs instead of the escalator and drinking a ton of water while on the plane to make me get out of my seat to use the restroom
When you get to your final destination go find a local store and pick up some water. I have such a hard time drinking enough fluids (other than cocktails) while on vacation. My body always pays the price for it. By purchasing a few large bottles of water you can easily keep track of how much water you drank during a day.
Once you get home life isn't such a shock if you keep a few constants while on vacation. Try it next time you get to get some Rest and Relaxation. It's really not as hard as you may think it is.