I've been a fan of honey for years, and every year I seem to find more interesting information about it. My all time favorite honey is from "Isla Tranqui" from the Patagonia Rain Forest region in Chile. This honey has no pesticides, or chemicals as the bees were brought to this island. On this island there has never been any chemicals or pesticides sprayed.  You cannot get anymore organic than that! How did I find "Isla Tranqui", a family friend owns the company and has poured their heart, soul and all their energy into this processing plant.  I hope one day in the future we will travel there to visit them and check out their new home, until then I will continue to dream about their island as I enjoy their honey!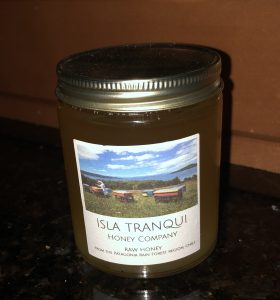 Why I love Honey:
1. It is a natural sweetener, and a little goes a LONG way!
2.  Honey contains vitamins, minerals and antioxidants
3. I love to use it when I have a cough and it coats my throat and helps with the irritation.
I love to use honey in my steel cut oats, tea, and my home made granola! I've added my recipe Incase you want to mix up your own batch!
Granola
6 cups oats (not quick oats, regular oats)
1 tablespoon cinnamon
1 teaspoon vanilla
Stir together then add
1/3 cup coconut oil
1/3 cup honey
1/3 cup coconut oil
I do 1/3 cup oil first as it greased the cup and the honey slides out easier
1 cup pecans. In small pieces
1 cup sunflower seeds
1 cup coconut
1 cup raisins if you like them
Bake in a pan for one hour at 275 degrees.
Check about 3 times to get desired toastiness