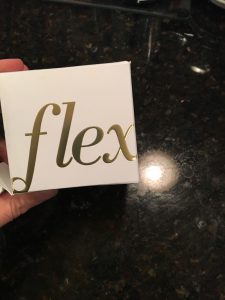 I first heard about menstrual cups from a friend. I was interested to learn more and came across the FLEX disposable option. The Free trial was an easy option to try out when all you pay is shipping.
FLEX 1: I pulled up the video to watch and It was simple to insert. I shared with my husband the new item I was trying out. You know men, he wanted nothing to do with it until I mentioned we can have sex without mess. Or that's what is advertised. I spent three hours in the car for our journey to the beach. It was a heavier flow day, and FLEX recommends starting on a lighter day. My bladder felt full but it had to be the FLEX as a trip to the little girls room didn't help. That night before bed I removed the FLEX, I DID NOT have it positioned correctly. Attempt one wasn't perfect but it wasn't a tampon either. Removal was easy, disposal was a mess!!!! I recommend opening the new FLEX before removing the old one.
FLEX 2: I read the website again and felt even more confident in my placement. The first night was a success, no spotting. Removal still wasn't pretty.
FLEX 3: I had a full day of kid entertainment at LEGOLAND so not having to stop at the bathroom every two hours was amazing. I still would not want to remove the FLEX anywhere but the comforts of my own bathroom.
Flex 4: I'm a pro.
Flex 5: I love this and am ordering it for my sisters.
The customer service for the FLEX is great. They have a chat feature that worked great on my iPhone and would even send me a text message when someone responded.
Anyone have experience with the reusable cups for when I get brave?
[Disclosure:  this is not sponsored]
Update for our followers. As of November we are an affiliate with Flex. Nicole has been  dedicated Flex user since her first trial and has never gone back to Tampons!