Finding time to read is challenging. I regret every minute I stay up past 10:30, but enjoy learning new information or escaping into my current book.  As you can see from my nightstand I don't stay up often enough. I am beginning to look like a book collector not an avid reader.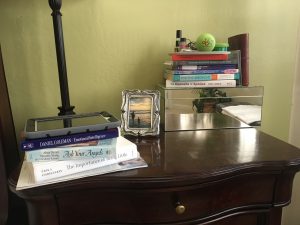 My Top Three Recommendations
: Raising Kids Who Are Grounded, Generous, and Smart About Money by Ron Lieber
This is a book I will read again every few years for new suggestions as my children get older. Money can bring so much trouble if you don't know how to manage it. I hope my children don't let their life be consumed by being a consumer.
2.  by Matthew Kelly
I read this book several years ago and loved it. All the members of my family created a Dream Journal based on this book.  I leave my journal on my nightstand to read when I need motivation or add to when I am feeling inspired.
3.  by Kyle MacDonald
While at adult camp (that's a whole different post on its own!) a fellow camper told me about this book. It is one of those books that makes you feel good about the world, and wonder what you might have that someone else wants. I believe timing is the essence of what big decisions depending on.
What are your top three recommendations?