I like to think I was born eating healthy. My mom was born and raised on a small farm in Alberta, Canada. All the vegetables, fruits and meat she consumed was from her families farm. When she has my sisters and me I believe she instilled how important fresh fruit, vegetables and meat were to us. Every meal I consume has fruits or vegetables with them.  I'm always looking for new creative ways to get my daily dose of healthy food. The latest craze for all things green has been apart of my life since I was young. There are so many easy ways to get an extra fix of greens.
My favorite "green" products are below
Amazing Greens Green Superfood Antioxidant
I had high hopes for these little packets. I knew they would be convenient to bring on vacation and hoped the taste was bearable. Berry flavor put me off a little bit I purchased them anyways. They were shootable but the water had to be extremely cold and only 1 oz. I needed to do about 3 shots to get all the powder dissolved. The berry taste was ok, but the powdery consistency was hard to drink.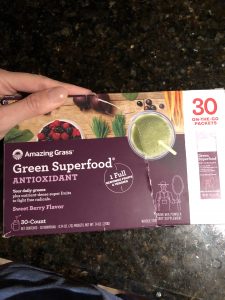 Energy Bits
I heard about this company almost a year ago after attending a conference. I requested a sample tried them and loved them and then forgot about the rest of my samples with all my studio goodies. I recently cleaned them out and found them. I purchased a 33 day supply and I love them. There is no taste and so many benefits. Chlorella removes toxins, supports your immune system, lowers cholesterol, improves blood pressure and gives you a better aerobic endurance. Spirulina increases physical performance, improves memory, and reduces heavy metal levels. They are so easy to travel as I just throw a few handfuls in a reusable zip bag. My favorite part is how easy they are to swallow. They recommend taking 30 a day, I count them out, and take a big gulp of water with them. No taste at all! I only wish their container fit exactly 30 so I didn't have to count them! I am now an Affiliate with them. If you want 20% off your purchase use the code NAZZO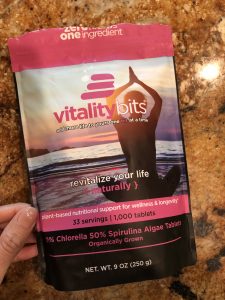 Amazing Greens Green Superfood Detox & Digest
I purchased this product from Sprouts. This product is not worth the price. I tried every way to consume it and I could never disguise the powdery taste and it was way to green tasting for me. If you love this product please let me know how you consume it so I can try that way!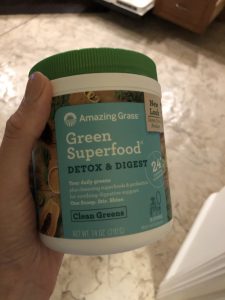 If you have any other green products you recommend let me know.