Most laundry detergents have toxic ingredients. We're talking 1,4 dioxane (causes cancer), SLS/SLES, parabens, phosphates, sulfates, synthetic dyes, optical brighteners, & more. Your laundry detergent gets absorbed into your body through your skin (your largest organ) so it's important to avoid these ingredients.
We tested & researched dozens of laundry detergents to find the 5 Best Clean, Non-Toxic Laundry Detergents.
We tested All, Seventh Generation, Tide, Persil, Gain, Earthbreeze, Arm & Hammer, Charlie's Soap, Nellies and much more.  We evaluated detergents using 2 criteria: (1) clean ingredients (we want to avoid dangerous chemicals) and (2) cleaning power (we don't want to compromise on effectiveness), .
TLDR: CLEAN PEOPLE Laundry Detergent came in #1 because it's cleans just as well as the big names but is plastic free and has no 1,4 dioxane, SLS/SLES, parabens, phosphates, sulfates,, synthetic dyes, optical brighteners, or other nasty stuff!  I use Clean People in my home and love it.
1.   CLEAN PEOPLE Laundry Detergent

Made from safe, natural, and plant-based ingredients, Clean People Laundry Detergent blew us away and was our favorite laundry detergent by far, earning 5 stars ★★★★★.  It is effective at cleaning and eliminating odors – we washed sweaty gym clothes and kids clothes with stains.  All the clothes came out fresh and clean.  In other words, it works!
Clean People uses natural, plant based ingredients and doesn't contain dangerous chemicals like 1,4 dioxane, optical brighteners, sulfates, phosphates, parabens, chlorine, or synthetic dyes (that's why it's hypoallergenic and certified by Dermatologists).
Clean People Laundry Detergent Sheets are laundry detergent without the nasty chemicals and the plastic.  We love that it's 100% Plastic Free (meaning it's way better for the environment).
Finally, we love all the great reviews that Clean People has earned, including one from us!
Clean People comes in Fragrance Free and Fresh & Clean Scent.  We love the Fragrance Free option but our favorite is Fresh & Clean!
This is what we recommend and use at home and thus earned the #1 spot.
Buy it here.
UPDATE: Clean People is currently offering BUY ONE, GET ONE FREE for New Customers, use coupon code: BOGO.
2. Molly's Suds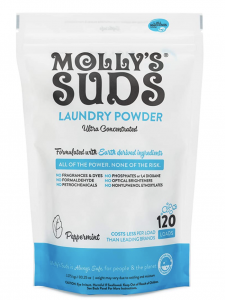 Molly Suds earned our #2 spot.  Like #1 Clean People, Molly Suds is made from safe, natural ingredients.  While Clean People is a strip, Molly Suds is a laundry powder.  You scoop the laundry powder into your washer before you've put your laundry in.  Our testing demonstrated that Molly Suds has good cleaning power and and clean ingredients.  Molly Suds comes in scented and unscented versions.
We're a little mixed on the powder format – it's easy to spill as you scoop from the bag into your washing machine.  Not as good as the Clean People's Strip but a lot better than the liquid detergent format.
Molly Suds packaging is in plastic.  But we like that it's not liquid detergent (which is heavier and uses more plastic).
The combination of cleaning power, clean ingredients, and little plastic earned Molly Suds our #2 spot.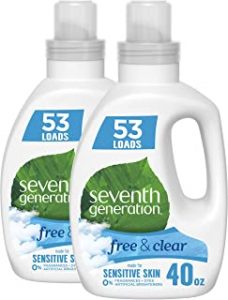 Seventh Generation came in 3rd place. Free & Clear is a fragrance free formula.  Seventh Generation did well in Cleaning Power, and did effectively remove most stains.  Seventh Generation uses primarily plant based ingredients and is hypoallergenic.  However, Seventh Generation's ingredients include ingredients that we don't like.  First off, Free & Clear includes SLS (sodium lauryl sulfate) which can cause rashes and harm your skin.  Additionally, the detergent includes preservatives (methylisothiazolinone and benzisothiazolinone) that are known to cause extreme allergic reactions in some people.
The plastic laundry detergent bottles are made mostly from recycled plastic which we like.  But this bottle ends up in the landfill after it's done.
We loved the cleanliness.  But the potential carcinogens in the ingredients dropped Seventh Generation to our #3 spot.
4. All Free & Clear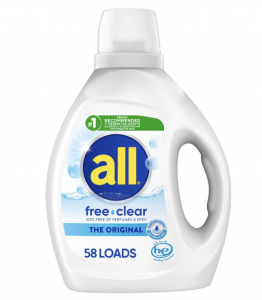 All Free & Clear came in 4th place.  All is what you think of when you think of Laundry Detergent.  But it's not what you think of when you think of Non-Toxic Laundry Detergent – for good reason.  Free & Clear has the cleaning power you associate with All.  But Free & Clear contains C12-15 PARETH-9, parabens, phosphates, and other synthetic ingredients like brighteners.
All is heavy and uses lots of plastic.  So it's not winning any points on environmental impact.  The plastic ends up in the landfill and the weight means lots of CO2 Emissions in transportation.  With liquid detergents, it's often hard to dose the right amount which leads to waste and using more detergent than you need.  This double whammy leads to wasting money and being bad for the environment.
We did love the scent and cleaning power, and based on the thousands of reviews that the product has on Amazon, so did many others.
5. Dirty Labs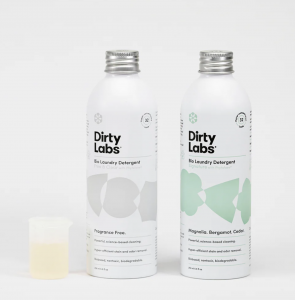 Great product! And I love their aluminum containers (aluminum is infinitely recyclable which makes it an environmentally friendly option) but it is too expensive to make it make sense.
Buy it here.
In summary:
#1 CLEAN PEOPLE Fresh & Clean: Buy It Here
#2 Molly Suds: Buy It Here
#3 Seventh Generation: Buy it Here
#4 All Free & Clear: Buy it Here
#5 Dirty Labs: Buy it Here