If you've started to see a receding hairline, the first step is to schedule a visit with a doctor and make sure your hair loss isn't a sign of a more serious health issue, such as a thyroid problem.  Chances are, however, that the issue is one that many people go through in one form or another – hereditary baldness.
Once hereditary baldness starts, it's not going to stop, though the rate of hair loss will differ from person to person based on genetics and external factors. Since hair loss effects so many people, we searched high and low for products that actually work on hair loss and aren't full of harmful side effects*. So without further adieu, here are 5 products we recommend:
1.   PURA D'OR SHAMPOO & CONDITIONER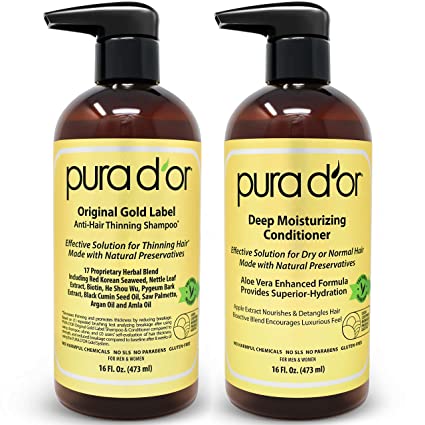 Made from a proprietary blend of herbs, Pura D'Or Shampoo and Conditioner blew us away in terms of effectiveness. The shampoo and conditioner promote hair strength and thickness by stimulating hair follicles and encouraging blood circulation to the scalp.  Each is made from herbal DHT-blocking ingredients like argan oil, seaweed, biotin and saw palmetto (DHT is the hormone that causes hair loss).
This is one of those shampoo/conditioner duos that you can use every time you wash your hair. After just a few uses, it helped our hair regain that body, volume, and luster it once had. We even fill up travel containers, so we can take the shampoo and conditioner with us when on the road.
Once we started with Pura D'Or, we felt like we never had a bad hair day. Our. hair felt thicker, and looked better! Simply put, Pura D'Or was our favorite hair product to treat thinning hair!
2. Wow Apple Cider Vinegar Shampoo and Conditioner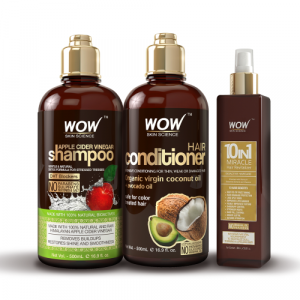 We love Wow Apple Cider Vinegar Shampoo and Conditioner.  The shampoo and conditioner are enriched with essential keratin proteins, Vitamin B5, Vitamin E, and saw palmetto – all of which help moisturize, soften & strengthen hair strands. In addition, the apple cider vinegar in the formula helps your scalp maintain a balanced pH and restores vitality and thickness to your hair.
The shampoo and conditioner combination are hypoallergenic, meaning your scalp won't get dry or flake as a result of using these products. On the days we aren't using Pura D'Or, we're using this Wow Shampoo and Conditioner!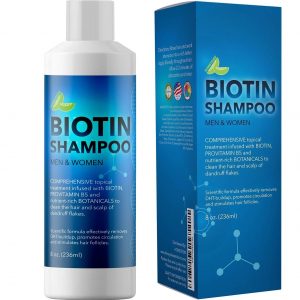 Biotin is also available through Biotin Shampoo. This Biotin Shampoo is specifically formulated for thinning hair and works by thickening natural oils to increase volume and texture while strengthening hair fibers and stimulating hair follicles. It comes up number 3 on our list, but only because many people prefer not to take any pills for their hair loss. If you're comfortable with a supplement, we recommend taking the biotin pill that ranks #4 on our list.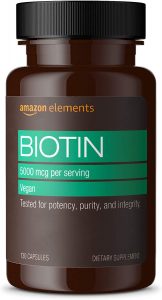 Biotin has a ton of benefits. The vitamin has aesthetic benefits in that it supports healthy hair, skin and nails. It also has behind-the-skin benefits, in that it supports brain function, cognition, and energy metabolism. While it's already found in shampoo, we take it to get an extra dose and appreciate the benefits beyond just healthy hair!
5.   Wow Onion Black Seed Hair Oil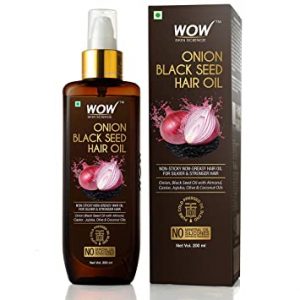 Wow Onion Black Seed Oil is packed with rich nutrients that help your hair retain moisture and thickness throughout the day.  Made from ingredients like Onion Black Seed Oil, Almond Oil, and Jojoba oil, the highly effective advanced treatment adds volume and body to hair, and the results get better with time!
Unlike a lot of other keep-in-hair treatments, Wow Black Seed Hair Oil is not sticky or greasy (nor does it have an odor, in case you're worried about that), so you can still manage your hair after application.
* We understand that people react differently, and some side effects may not appear or may be acceptable to some but not others. Please note our test was not scientific, and your experience may vary.